Quality Tiled Conservatory Roofs in Yorkshire.

See our customer reviews on Trustpilot…
Tiled Conservatory Roof Specialists working across Yorkshire.
At Conservatory roof specialists we pride ourselves on providing an excellent service coupled with great value for money. We are a family run business with over 20 years experience in the conservatory and building industry that cares about the finer details of your tiled conservatory roof conversion. We install the high quality and lightweight insullite conservatory roof system which has industry leading thermal qualities of under 0.18 U value coupled with acoustic quietening properties which make it the best roof in the market.
All our customers are unique and as such we treat them that way, all products are manufactured to individual needs to ensure all our customers get exactly what they require with the personal touch. Customer satisfaction our highest priority, 50% of all of our installations every month are recommendations from satisfied customers. They recommend friends and family because Conservatory Roof Specialists are not a high-pressure company, our prices are very competitive without compromising on quality or service.
Our trained designers can advise you on the best design for your conservatory roof both inside & out. A combination of expert survey work and manufacturing techniques ensure your installation is exactly as specified. Within 3 to 4 weeks of your order our fully trained installers will have started your work and will then provide the finishing touches to make the job complete! From the colour of the slate to light box pelmet with LED lighting & Velux windows.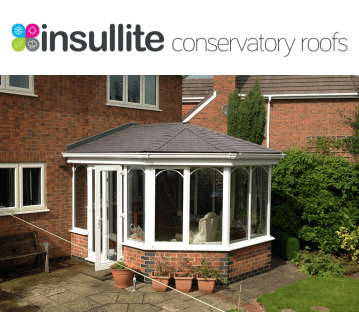 Tiled Conservatory Roof
We supply and install beautiful high quality, robust tiled conservatory roof solutions from our depots nationwide.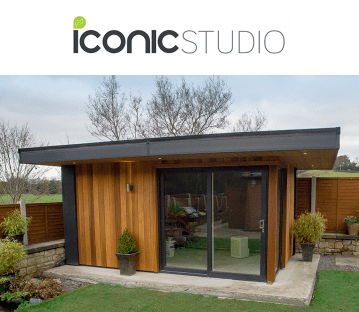 Iconic Studios
The definitive garden office solution is a fully insulated timber system which will add real cost effective amd valuable space to your home.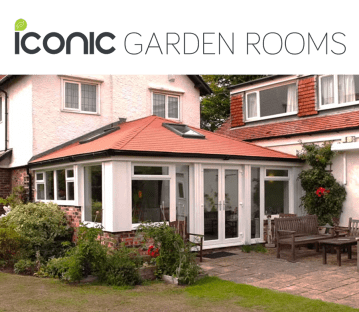 Iconic Garden Rooms
The ultimate conservatory conversion has been designed to transform your conservatory in to a space you can use all year round.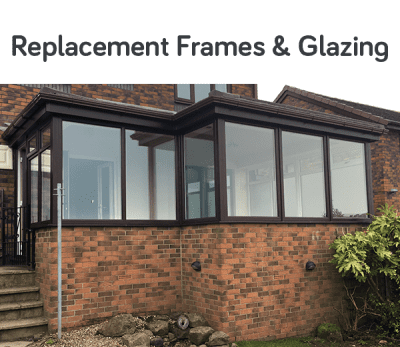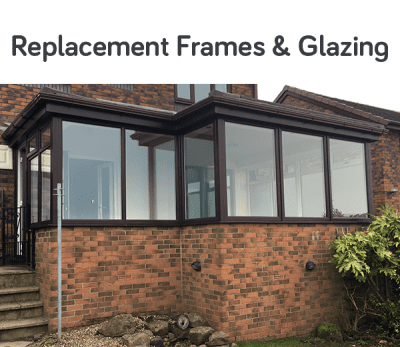 Conservatory Frames & Glass
Whilst replacing your polycarbonate or glass conservatory roof with a new tiled conservatory roof, it may also be beneficial to replace your conservatory window frames and glass. At Roof2Room we offer competitive pricing on conservatory frames and glazing, we can either replace like for like or install a more modern window configuration such as attractive grey frames and full height glazing.
The frames we install are manufactured to a high standard using the Liniar energy efficient multi-chambered uPVC profile. The Liniar range of casement uPVC windows is available in a range of colours including White, Cream, Chartwell Green, Grey, Black, Irish Oak, Golden Oak, Mahogany and Rosewood so you're likely to find the ideal match for your home. Liniar casement windows comprise our multi-chambered uPVC profile, which works to trap in pockets of warm air and maintain the warmth in your home. Enjoy A+ rated standards, today.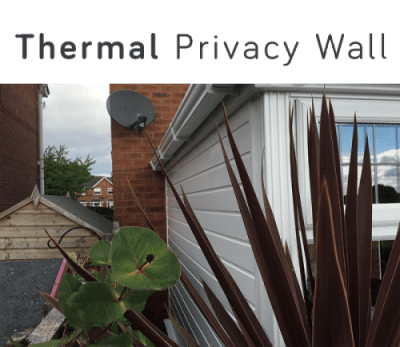 Thermal Privacy Wall
To complement your new conservatory roof, we offer the option to insulate and clad the sides of your conservatory. The insulated privacy wall is a fast and cost effective way of transforming your conservatory into a real room. The privacy wall is normally installed on the side of your conservatory which is closest to the fence or boundary. The wall is externally clad with UPVC matched to your existing conservatory frames. We then plaster skim the wall internally giving you the option of a flush finish.
The wall is insulated with the latest in lightweight insulation. This ensures the wall has an exceptional thermal performance to match the tiled conservatory roof. We also use external ventilation and a vapor control layer, meaning the new privacy wall will stay condensation free.
To learn more about all the benefits of our tiled conservatory roof solution call 0113 209 3296.
Free No Obligation Quotes Given.

Building Control Approved & Certified.

Lightweight Timber Roof System.

Complete Conservatory Roof Replacement.

100% Condensation Free System.
Available Nationwide
Here at CRS the Insullite Tiled Roof System and Iconic Garden Rooms are available throughout Yorkshire, Leeds and Bradford.
If you're in the North east and looking for a tiled conservatory roof then CRS have a tiled conservatory roof solution for you. All of our installers are experienced professionals and will work closely with you to help you achieve the perfect space you can enjoy all year round.
If you would like to know how much it costs for a conservatory roof replacement then please get in touch using the contact form and one of our friendly members of staff will be in touch as soon as possible. Alternatively give us a call on the number below.
Call 0113 209 3296 and our friendly team will be happy to help.
Our Home Owners Say
The Workmen Chris and Rich have done a fine job here and i would recommend your chaps to anyone as i was recommended to you, I am thinking of having a porch build so please come and see me to work out the costs.
Many Thanks.

Mr & Mrs Smith
The Electrician has finished and the plaster has been, everything went very smoothly and that is a credit to your ream, the new roof looks great with the windows and french doors, the new lights just topped it all off, I have sent you some photo's hope you like them and they can be of use. If you want anyone to come and view the finished work let me know, My Friend Mr Jennings has told me you are going to see him after he saw mine and was very impressed.
We are so pleased with the standard of work from your workmen and how clean and tidy they have been, it makes a big difference, my wife was so pleased when everything was finished all we had to do was put the furniture back in. We would happily recommend CRS to anyone.
Thank You.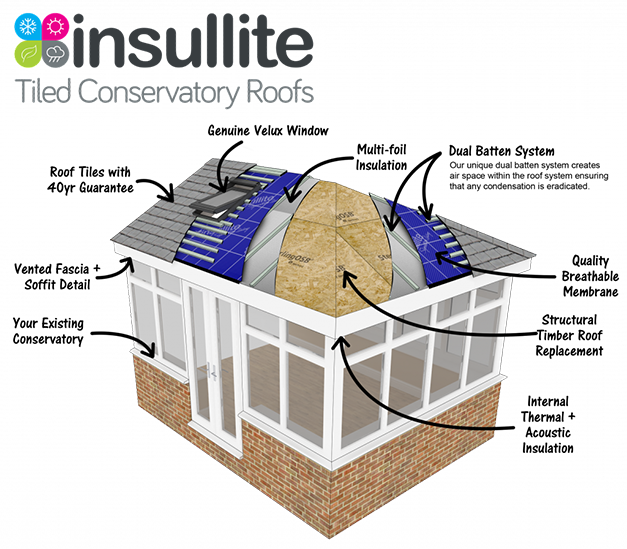 The Insullite Tiled Conservatory Roof.
Its a well known fact that conservatories are freezing cold in winter and boiling hot in summer, there are only a couple of months a year when you can enjoy your conservatory. This is due to the fact that many existing conservatory roofs are made using glass or polycarbonate sheets, these materials have virtually no thermal properties. The Insullite roof system's structure is robust and designed to stand the test of time.
The structure has been developed to put minimum stress on the existing conservatory frames, we do this by employing an intelligent structural system which transfers load back to the house structure, so unlike many other tiled conservatory roofs on the market, this puts minimum stress on the conservatory frames.
The Insullite conservatory roof system uses a timber structural system because unlike aluminium it doesn't conduct hot or cold, meaning that there is no risk of condensation inside the conservatory roof. The Insullite roof system is fully ventilated beneath the tiles making it 100% condensation free.
Our attention to detail during the design and manufacturing process has ensured that our tiled conservatory roof system has been granted building control approval, giving you extra piece of mind that you are in safe hands with CRS Bradford.